My first Writer's Workshop with.....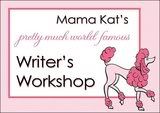 ">



The assignment - write a pitch that describes your blog so if I'm ever in an elevator and meet a contact I can share my blog premise in the short time it takes to ride an elevator together.....here it goes...

Life is a series of moments that define our ultimate course in life. My blog is an attempt to share the big as well as everyday moments with other people because we all need to feel more connected to others and sometimes we draw strength from their experiences. So here I am.....blogging about the big and little moments in life that define me and make me who I am.


What do you think? Need work still?